CPD diary
We aim to provide continued professional development for interested clinicians in several ways
1. Local lectures changing topics monthly with MCQ feedback and Certificate provision
2. CPD certificated actvity based on our publications
3. Links to eDeN sessions written by the team link to http://www.e-lfh.org.uk/projects/dentistry/
4. reference to our published book (coming soon BDJ books Oral Surgery)
Firstly we will provide a lecture on a monthly basis on a diverse selection of topics see below:
Chronic Pain
odontogenic infections
Nerve injury
Modern oral surgery
managing acute post surgical pain
Month 6 how to do cranial nerve evaluation
How to evaluate patients with trigeminal neuropathy
Assessment and management of M3Ms
Assessment and management of ectopic teeth
minimising and manageing trigeminal nerve injuries
The medically complex patient when to refer
IV sedation
Emergencies in the dental setting
Acute dental trauma
Bisphosphonate related osteonecrosis: lets not go there
LA technique
All these lectures will be followed by multiple choice questions with feedback.
We will also link our publications to CPD activity based on this website.
We hope this is enjoyable and constructive and SOON we will have login activated.
Future lecture presentation dates
ITI key note speaker London, Implant relate dnerve injuries 1st September
EACD Paris, Post traumatic painful neuropathy 6-8th September
British Association of Oral Surgery Edinburgh Training in OS, 26th-28th September
Advanced course GDPs Liverpool Nik Palmer, 9.10.12
EAO October Implant related nerve injuries, 10th -13th Copenhagen
Newbury return…Vicki Holden, 11.10.12
Japanese society of dental science Osaka, symposium on prevention IANI, Nov 9-12 2012
Bali Asian IOMS, Coronectomy, 19th November
Australia / Series LA lectures Sydney Melbourne
Careers in Oral Surgery
National Oral Surgery Trainee Day
29 February 2012 Best Practice in Oral Surgery 19 October 2012 20 October 2012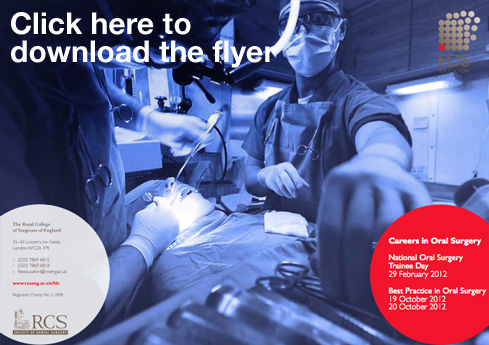 Local Anaesthesia

Local anaesthesia is a difficult topic to teach and learn. We have a module based programme to teach our dental students and we are happy to share this with professional visiting the site.
We are currently writing a book for BDJ publications and hope to provide links to this site for operational videos in local anaesthetic technique. We will be developing this area of the site over the next year.